---
Am/Can Ch. Cherfire's Claim to Fame CD/HIC/CGC/HT/PT/BPD/AmRN/RA/VCX/ROMX/ChP
(Am/Can Ch. Cherfire's Sneak Preview CD/RN/HIC/CGC/BPDX/VCX/ROMX/ChP x Ch. Cherfire's Steel Magnolia HIC/VC/ROMX/ChP)
"Fanny"
November 28, 1999 to February 17, 2014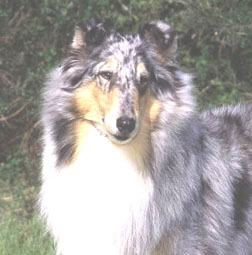 #4 Rough Collie in Canada 2007 as a Veteran!
Fanny produced 13 Canadian Champions and 2 American Champions
---
Am/Can Ch. Cherfire's Sneak Preview CD/RN/HIC/CGC/BPDX/VCX/ROMX/ChP
(Tartanside Preview ROM/ROM-P x Ch. Cherfire Singular Sensation ST/CGC/VC)
"Sneakers"
July 24, 1998 – July 19, 2009
#3 Rough Collie in Canada 2003 and 2005 #2 Rough Collie in Canada 2006 as a Veteran!
I am devastated, heartbroken, and lost.
My child went ahead of me to the Rainbow Bridge tonight….far too soon….if you understand that EVER was too soon…..
Am/Can Ch. Cherfire's Sneak Preview CD/RN/CGC/HIC/BPDX/VCX/ROMX/ChP "Sneakers" had to leave me this evening….and he did not want to go. I will be ever grateful that he was here with me for his last breath.
Sneakers was born on July 24, 1998, to Ch. Cherfire Singular Sensation ST/VC "Billie" (a daughter of my Lick Creek dog, Smoky) with 3 other puppies. His sire was the beautiful Tartanside Preview ROM/ROM-P, who John Buddie had been gracious enough to allow me to send Billie to. It would be the only litter she would have for me…Sneak was first born, and a puppy almost twice the size of the others. Until then, I had been breeding mostly tricolors and blue merles…..he was a "BROWN" dog….and I wasn't going to keep a brown dog. My father asked as the puppies were born "are there any BROWN ones in there?"….and so it went. Sneakers had so many Tartanside qualities that I needed in my breeding program, and later I would find out he passed on so many of them. Not only was he beautiful, from the time his eyes opened, HE chose ME.
Our journeys were many, our struggles together hard, our love for each other boundless…which all who knew us understood. He was my first of many things….first homebred male that I kept at Cherfire, first American Champion from the BBE class, first homebred top dog, first Veteran top dog, first Champion Producer (20 Champions), first home bred big specialty winner, and first in my heart.
Above all that, he was my Silly Puppy. He had so much energy, and would gladly do anything I asked….he never knew his age. He did me proud in the Veterans classes and sweepstakes, and he made people take notice. Folks were always amazed at his physical age, no one ever guessed. He always gave me his all in the ring, and the few others that were lucky enough to have shown him, understood. All who really knew him, knew he always had a hug and a smiley face for his friends. He loved a good run in the park, he loved to be included on our trips to the shows, loved to be groomed and have that extra time with me. Sneakers much preferred a squeaky toy to cookies, but he knew when the liver was being made it meant a road trip! He loved obedience when he could work for me, and you could see him smile every minute he had that was JUST with me. He hated it when I showed the other dogs, he owned me from the beginning and hated to share me. He loved a body rub, and to climb up on the couch and give us silly puppy kisses to make us laugh. He knew his extended family, and would happily work for children in junior handling at my classes and the shows. Over the years he escaped a few times, always giving us a big scare, but always finding his way home. (with the help of our COLLIE friends, and our pet psychic).
He loved living at "grandma's house" with us, being the yard boss, and always the top dog. He loved his family, human, canine and feline…and he accepted and loved Jason when he made our family complete.
He loved his blankie, his teddy bear, and his nighttime cookie, and bedtime will never be the same.
I know grandpa, and granny will be waiting at the Bridge….with a cool dish of water and a warm blankie, and his kitty Tigger, who will curl up under his chin and wash his face of tears.
Goodnight Sneaky butt, my silly smiley face puppy. I am lost without you. The house seems so quiet now without my yard dog…protector of us all. I'll miss your happy bark, your beautiful Tartanside smile, and the big part of my heart you took with you. I know you will keep it safe until we meet again for the next leg of our journey together.
Mommy loves you Sneak, home is where your heart is, and you will always be home.
---
Ch. BenEcho's Fire Star CD

Ch. BenEcho's Copper Drum ROMX x Ch. BenEcho's Black Velvet

"Fire"

November 18, 1985 – April 3, 1999

I picked Fire up at the home of BenEcho on a very rainy weekend, and she travelled home across the ferry and a few more hours after that on a pillow on my lap. She was my first collie, and learned all the tricks….how to speak, and speak quietly, how to play dead, how to shake, and a multitude of tricks we teach our first ones. She was the perfect house dog, and after her Championship (hard won because I was so kind to her about ear taping), she mostly lived at Grandma Ann's home, while I travelled to the shows with all her kids, and Smoky. She produced 2 litters for me by Chumani's Midnight Traveller ROMX, and we tried to breed her one time to Smoky, but she didn't take, so she was spayed and became the family dog for my parents.

She achieved her CD with 3 weeks of training as a Veteran, and lived life exuberantly. I am sure she is resting peacefully by the coffee table at the Bridge, on my dad's foot…right where he couldn't get up without her knowing about it….and her kitty Tigger is curled up with her too…asking Grandpa for a fresh dish of cold water that Fire hadn't had her muzzle in first.

Rest well all of you, I am sure you will be there together waiting for our time to come….

In our memory forever….love mom and Grandma

---

Cherfire's Wish Upon a Star

Chumani's Midnight Traveller ROMX x Ch. BenEcho's Fire Star CD

"Tessa"

April 21, 1990 – March 8, 2005

From the Wheeler family

Tessa gave us all great joy and unconditional love for close to 15 years. She was a sweet collie with a soft expression and behavior that we loved. Tessa became a wonderful friend to our family. Many thanks Cheryl for letting us raise Tessa.

Sadly missed by Allen, Jane, Crystal and Kim Wheeler.

---

Ch. Cherfire Sapphire O'Ronas Hill CGC

Ch. BenEcho's Cherfire Dreamscape CD/CGC/TT/CC/VC/ROMX x Ch. Cherfire's Rave Reviews CD/ROMX

"Star"

Dec 2, 1996 – Aug 13, 2007

From Heather Lovett

I lost "Star" on August 13. She was a great dog to show — she loved the ring, kissed all the judges when she could, and finished her Championship at the age of 11 months. When she retired from the show ring, she took on the job of top watch dog, and deer chaser (although they were always on the other side of the fence). When someone came to the door, she screamed and yelled and threw herself at the door, letting whoever was there know that this was her house. If they had only known — all she would have done was knock them down and lick them to death, but as I live in the country, I appreciated her enthusiasm. "Star" is pictured here with one of her little buddies (Ch. Jolvin's Star Tradition — "Foxy"). I lost "Foxy" this past April. "Star" and "Foxy" were wonderful dogs and are greatly missed.

---

Breigayt's Cherfire Indigo CDX/AgN (UKC-CDX/NA)

Ch. Chumani's Cherfire Smokin Gun CD/CGC/TT/VC/ROMX x Ch. Braemar's Alaine Of Breigayt ROMX)

"Indy"

Sept 1995 – July 2008

Pictured at almost 11 years of age completing his CDX!

From Indy's mom Kathy Reid

Indigo came to me as a Pacific Assistance Dog in training, from Burnaby, B.C. He bonded too closely to me to be able to fulfill his training so was released from the program. That was how it was for the rest of his life; where I went Indy went, and what I did, Indy did.

I was told, when I first started training him for Obedience that he might get his Novice but would not get his Open. He did it all for me.

I miss you greatly, My Indigo, and always will and so, my Friend, Rest in Peace, you deserve it.

First in total number of Points in 2005 for Smooth Collie

Second in total number of Points in 2006 for Smooth Collie

---

Ch. BenEcho's Cherfire Dreamscape CD/CGC/TT/CC/VC/ROMX

Ch. Chumani's Cherfire Smokin Gun CD/CGC/TT/VC/ROMX x Ch. BenEcho's Black Magic ROMX

"Dreamer"

Dec 25, 1993 – Sept 9, 2008

From Dreamers mom Norah

I'm so very heartbroken to tell you that Dreamer passed away at home tonight. Both Doug and I were with him. He'd be failing a bit lately but still eating well and still his ol' love sponge self. We came home from work tonight to find him unable to get up. Within an hour he was gone. I don't know what we'll do without him. He was truly my Dream Dog.

Dreamer loved sleeping under the camellias at our old house. We're going to plant one in our yard and bury his ashes under it.

Ch. BenEcho's Cherfire Dreamscape, waiting at the bridge

---

Ch. Cherfire's Steel Magnolia HIC/VC/ROMX/ChP

Ch. BenEcho's Cherfire Dreamscape CD/CGC/TT/CC/VC/ROMX x Ch. Cherfire's Rave Reviews CD/ROMX

Dec 2, 1996 – Feb 2, 2009

On monday, February 2, 2009, Shelby went to meet her family at the Rainbow Bridge. I write this with heavy heart and a lot of tears. Shelby came to us here in Phoenix after we lost her sister to Valley Fever. From the moment I picked her up from the airport she was my girl. All she ever wanted was to be loved and she returned that love in spades. Every night after supper, Shelby would come over to my chair, put her front paws up on my shoulders and have me rub her until she burped, then off she'd go. Shelby was so gentle with my grandkids. She thought they were hers, and she'd follow them from room to room to make sure they were ok. She loved going north in the summers, sitting on the porch and watching the elk eat the hummingbird food. She also loved the long walks in the forest with our group of dog friends, where there were plenty of elk and squirrels to chase. Shelby was my special angel.

I held her in my arms as she left, not wanting to let her go, but I had to. I loved my girl and I hope to see her again someday. Thank you Cheryl for the love of my life.
Sandy and Bob Treese

---

Cherfire's Forever Young

"Lucas"

Nov 6, 2002 – Aug 29, 2011

LUCAS

He was a whisper.

Before he was here, he was a whisper:

a nonentity, vague, an idea.

But he was already loved. Akin

to a fulfilled dream, his being was a heart promise

kept.

Young once, he drew into my soul

where he lived

all his life

till the day he died. I loved him till then simply

because he was him. He was a solidly integral

part of my life.

He had a staunch sense of self

that was strong and almost palpable.

He loved life because he saw nothing amiss.

Unable to breathe easily without him

I must still learn how to breathe

rarefied air. Forcing stagnant air into my deflated lungs,

I realize: Life is somehow less now.

Sadly loved and missed by owner Joyce Dozier

Ch. Cherfire's What Price Glory CD/TT/ROMX/ChP

Chumani's Midnight Traveller ROMX x Ch.BenEcho's Fire Star CD

"Glory"

April 21, 1990 – July 8, 2003

Glory was the start of my love for the Tartanside and Lick Creek combination, and my first Champion in my own breeding program. She produced 3 litters for me, a total of 12 puppies, of which 9 were Champions …making her a Champion Producer (new program thru CCC), and a ROMX dam. She was retired to a wonderful home at the age of 5. Shortly after this couple had their first child, and Glory decided she was the babysitter….quite capably raising this child to the age of 9. Her family is devastated, and she will be sadly missed. She joins her lifemate Smoky, and her brother Hamish, and is survived by her sister Tessa. We can only hope that all the Cherfire Collies will live as long, and bring their families many years of happiness.

Love to the Cristall family, and sadly missed by Cheryl and Ann at Cherfire, and Laur, Meaghan and Gavin Matichuk (who saw her at school every day with her boy Matthew).

---

Ch. Cherfire's Time Traveller

Chumani's Midnight Traveller ROMX x Ch.BenEcho's Fire Star CD

"Hamish"

April 1990 – April 2003

Hamish was created in Cherfire's second litter of puppies, and was a whopping twice the size of the rest of the litter. Hamish owned Jack and Mary McCulloch from the time he was 4 weeks old, and went home with them when he was 10 weeks old. He was a true gentleman in every way, and had an air of great dignity about him. He completed his Championship at the shows with Cheryl in quite a short time, and delighted in telling his mom a BIG story about it each time he came back from a weekend away. He also came to be groomed regularly at Cherfire, and we always loved his company. Jack and Mary made Hamish a family member, walking him many times a day, which I am sure contributed to his, and their ongoing health. Hamish passed away in his style, with dignity, at home with his loved ones, where he remains on his property. Rest well my old friend. Sadly missed and loved by the McCulloch family, and Cheryl and Ann Ellis.

---

Am/Can BIS/BISS Ch. Breigayt Cherfire Sm Operator CGC/VC/ROMX

Ch. Virtu's In Excess x Ch. Braemar's Alaine Of Breigayt ROMX

"Austin"

Dec 6, 1994 – Jan 3, 2006

---

Cherfire's Midnight Special

Ch. Chumani's Cherfire Smokin Gun CD/CGC/TT/VC/ROMX x Ch. Cherfire's What Price Glory CD/TT/ROMX/ChP

"Asa"

Sept 7, 1993 – Dec 10, 2007

From Asa's mom Suzanne

I am sorry to pass on some sad news. Asa passed away a few weeks ago. As you know he was over 14 which is a long life for a dog. He certainly had a good life and enjoyed every minute of it right up to the end. He was a beautiful dog in both appearance and personality. He just loved to have a good time and get along with everyone, dog or person. So he is missed by all but we know he had a great life. Thank you for breeding such a special guy and at the moment we are discussing whether to get a puppy or maybe an older dog in the future. So will keep an eye on what litters you have coming up and give it a bit of time.

---

Ch. Cherfire's Rave Reviews Am. CD/ROMX

Ch. Sun Country Fame And Fortune x Ch. Cherfire's What Price Glory CD/TT/ROMX/ChP

"Raven Simone"

December 4, 1992 – April 19,2006

Written by Raven's mom Karen

RAVE REVIEWS

You stepped into my life and placed a paw upon my heart,

Love, unconditional and pure.

Your patient trust captured my soul.

Warm puppy breath, sweet kisses, and your Lauren Bacall bark,

I looked into your incredible face, touched your silken coat, felt your spirit.

You inspired me,

Gentle, funny and oh so, dear.

Long walks in the woods, "cookie dances,"

And the comfort of your wet nose pressed against my hand.

Tired and having lived a full life,

You waited for me to say "good-bye."

I thank you for that.

Yes, it was time.

You closed your eyes and slipped away.

But you've never left my heart.

---

Ch. Cherfire's Sensational Preview CD/RN/NA/NAJ/NAP/NJP/HIC/CGC/VCX

(Tartanside Preview ROM/ROM-P x Ch. Cherfire Singular Sensation ST/CGC/VC)

"Della"

July 24, 1998 – June 25, 2011

In 1999, Della jet-setted cross country into our lives from Vancouver, BC. A petite, flashy, sassy tri-color with the boldest, brassiest, in-your-face attitude I'd ever seen in a Collie. Who ARE you?? She had incredible structure—with an effortless natural road trot that was like watching poetry in motion— and a BARK that came from her toes! Who would think such a cute little Collie girl would sound like a Rottweiler! Little did I know what an adventure life had in store with this little ball of fire! I never had to worry about anyone breaking into the house or car—Della's bellow bark caused many a delivery person to just drop the packages and run. She had strong prey drive–knew one of her jobs was to keep critters at bay and take care of her peeps and property—she almost tore a gutter off the house trying to get at a chipmunk hiding there—a windowsill almost worn down to a nub was the result of her digging and barking at anything that moved. Vacuum cleaners, lawnmowers, Swiffer sweepers—anything that made noise was met with the same reaction. She had endless energy, a short attention span and was easily distracted which made training a challenge, but once channeled in the right direction, she was an outstanding performance dog excelling in agility—she was clearly in her element and loved every minute. She ruled the roost—all the dog toys were hers, all the dog beds, food, whatever—she didn't like to share—period. When I took her to an animal communicator—the main message was, "Della would like to be an only dog–she wants to know when the others are going to pack their bags and leave." LOL There were 2 other dogs in the household at the time with seniority, but her goal was to be #1. It took a few years, but she eventually got there. Our new smooth boy, Tanner, knew his place—here was a lady that kicked butt and took names. They were great friends.

We had lots of successes—her first road trip to the Wichita CCA National in 2000 earned her HIC title—she went directly from the RV to the sheep ring and passed with flying colors—the judge's comment on her worksheet was one word—"NICE!!!" She was amazing—At the 2004 CCA National she finished both her NAP and NJP titles with a first and third class placement–she also earned 2 other novice agility titles with ease and more class placements. Several great breed wins–over 2 specials and another huge class win over 8 top tri-color girls in the country added to her resume. We also earned a Rally Novice and Companion Dog titles—by this time, she had earned enough titles for her AWCA Versatility Companion Excellent title, and it was time to retire and let her rest on her laurels. When we discovered CPE Trials and found they had a Veterans class with lower jump heights—Della came out of retirement at age 9 and finished her first level CL1-F (Fun title qualifying in Jumpers and Full House). She clearly enjoyed being back out on an agility course and had a blast! Last July, we participated in a Retired Agility Dog class—again, she clearly had fun doing another run and received a sash and toy for her efforts. This and all her wins have a place of honor on the wall.

Time has a way of going by way too quickly. Someone once said that every dog comes into your life for a reason and to teach you a lesson. I truly believe that to be true. Della taught me many things, particularly in dog/pack behavior, patience and perseverance. Thank you, Della, for the challenges, adventures, memories and for just being You. I know we will meet again someday. Rest well, Girlfriend, you deserve it—we love and miss you.

And thank you, Cheryl, for sending us a very special, unique Collie girl to share our lives.
---