---
BIS/BISS Ch. Chumani's Cherfire Smokin' Gun CD/CGC/VC/CC/ROMX
"Smoky"
November 16, 1989 – July 23, 1998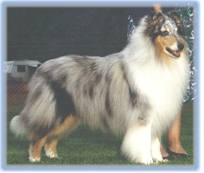 A memory is forever….
Thank you to all the people, throughout the years who shared in the legacy and loved my little blue dog. Your support during that time was always appreciated.
Nothing gold can stay…..
If you get there before I do,
Don't give up on me…
I'll meet you when my chores are through,
I don't know how long I'll be.
But I'm not gonna let you down,
Just you wait and see….
And between now and then, til I see you again,
I'll be loving you….love me.
Mommy loves you Smoky Bug. See you at the Rainbow Bridge….
Memories of Smoky……
We never knew the day Smoky came into our lives, we were in the presence of greatness. I was a novice then, and chose him based on personality and the good word of his breeder, Shirley Ekman. Smoky showed me the way to become a team member and a good handler, and, when he achieved his Best Puppy in Show, I was hooked. We achieved many milestones together…Best In Show, Best In Specialty, multiple group placements in Canada and the US, Top Collie in BC for four years and among the Top Collies in Canada then as well, Companion Dog, Canine Good Citizen, and his Register Of Merit Excellent for giving me beautiful versatile children to carry on with.
One of our fondest memories was October '95 when Smoky won the Alberni Classic under a man we did not know, Mark Webster, who turned out to be a part of our Lick Creek beginnings. He saw the "look of eagles" in my little blue dog, and Smoky showed his heart out for him, and for me that evening.
Smoky was the kind of dog that had charisma. He drew people to him and there were many people who he touched in his life. He would take time to greet every friend with his silly puppy wiggle, and a smile on his face…those who knew him, loved him. He was drawn to children, thought not raised with them, and would worry when they cried, while trying to comfort them. He hated swings as he felt they would hurt the people he loved. He tried to rescue us from them.
Smoky gave all he had in the ring and lived to please me and to make me laugh. When he was happy, he would play "monkey feet" and try to grab your shoe laces and trip you, or rub his body down the side of the couch in pleasure, while telling you in soft mumbles how great life was. His greatest pleasure was hearing the sound of laughter that was because of his clownish antics. He was my partner, best friend and confidante and was always there for me. He spent his whole life with me and I was with him when his time came to go.
I see him every day in his children and grandchildren, and I smile with the memory. He gave me so many precious gifts. I know he will wait at the Rainbow Bridge to greet his friends and family one day, as he will wait patiently for me to pick up his lead and begin our next journey together.
Rest well Fuzzy Butt, until we meet again. Love mommy.
————————————————————————
Ann's memories……
When Smoky wasn't on the road, winning ribbons and hearts, he stayed with me at home taking charge of the yard, playing gently with his offspring and his kitty Tigger, and being a friend to all who came through the gate. I'll miss the way he conned me into letting him stay on the couch or steal my slippers when he wanted to play.
God Bless you Smoky Bug. love Grandma and Great grandma Isabel (now waiting at the Bridge too)
————————————————————————
Our dear friends Michelle & Monique Arpin…who we gave a Smoky grandson to in thanks of their support….
Our heartfelt love to Cheryl on her loss of Smoky. The loss of Smoky is a pain most of us know too well. Smoky wasn't only a successful show dog or a great sire, he was Cheryl's most cherished friend. He will always be remembered as that "little blue dog with flying feet". love M & M
————————————————————————
There were so many tributes in cards and emails, and I will always be grateful for EVERY one. Smoky was the dog that started me on this road, and I am ever thankful to him. Each planned litter at Cherfire is based on certain things he gave to me, and my continuous plans for longevity and health stem from who he was. Unfortunately he needed a simple surgery that was misdiagnosed by a new Vet with attitude, and no matter how hard I prayed, I was not able to save him on that day. The Vet's attitude was "hey, it's JUST A DOG"…and he did not try to save Smoky. I would have died in his place.
There are just no words….but it has taken me many years to write this. Smoky, my heart dog…you are gone, but NEVER forgotten….and certainly not "just a dog", but you were MY dog…and my life. I know you are waiting with my daddy and grandma….and I will see you again….with much love and an aching heart, Mom.
---
Keesha Rain CDX/CGN/CGC/FDCH/NACV/VADC
April 7,1996- November 3, 2003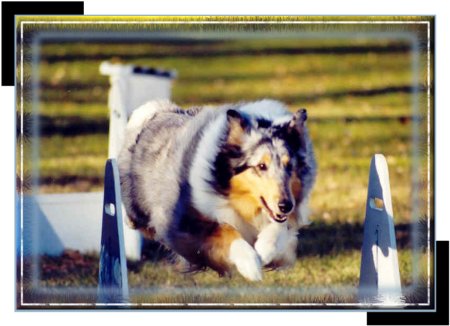 Written by Joyce Baker
From the moment we carried Keesha through the door at 6 weeks of age, we all knew that she was going to become a very special member of our family.
I had taken an interest in obedience trials and she was going to be the dog on the end of the leash. She became far more than that, she was my friend, my partner, and my teacher. Keesha's patient and forgiving nature allowed for my mistakes, and taught me that encouragement and praise were all that was needed to create a team that worked. She earned her CD with a couple high in classes and was #2 novice Rough Collie in Canada for 1999. In 2001 she again made me very proud by earning her CDX and being awarded the #3 Open/Utility Rough Collie in Canada. We then moved on to participating in more exciting activities. Flyball may not have been her most favorite sport, but she always gave it her all, earning her Flyball Dog and Flyball Dog Champion titles. 2003 was a very busy and enjoyable summer on the agility course, earning her Novice Agility Certificate (Veteran), and her Veteran Agility Dog of Canada awards.
I was looking forward to bigger and better things next year, but it was not meant to be. It didn't take long for me to realize that all was not well. Keesha was diagnosed with cancer in September and 6 weeks later I said good-bye to one of my best friends. What will I miss the most? The look!! So many times throughout the day she would come and quietly look at me and just wait for a "hi how are you", a scratch, a hug, or a short play session. It wasn't so much what we did together, but just being together that seemed to make her happy. Nothing can replace the tail wagging affectionate loving kisses everyone received, whether you were coming into the house or just walking into the room, family or strangers it didn't matter.
A more elegant, loving, affectionate, and gentle companion I can't imagine. Life will never be the same again.
---
"Kozmo, the Superdog"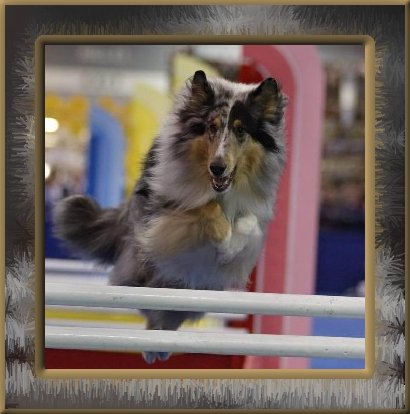 Loved and sadly missed by the Aziz family, and the entire Superdogs family….and Cheryl, who was so very proud of your accomplishments always.
Written by Kozmo's loving family
On a trip for the Montreal show in April of 2001, I was peering out the window of the plane during loading in Toronto to ensure that Koz was loaded without any problems, when I was approached by someone asking me if I had a pet on board.
Pet????? PET??? I was pretty much insulted.
This was not a mere "pet" this was my 4 legged companion that had given me so much. As with all our furkids they mean much more to us than just a pet.
When I got Koz I was just another pet person, but trying to keep an open mind I thought maybe I should take some classes to see what I can learn and signed up for some at a community hall. The following Tuesday there was an article in the paper showcasing a local business called the "superdog spectrum" That looks like fun, and changed my enrolment with Koz to the S.S.. I had never seen a complete show, so it was the furthest thing from my mind. What It did do was teach me how little I knew about dogs, It gave me something to look forward to every week where we could go and get away from day to day obligations…and just plain old escape and have fun. He gave me some sanity back into my life from work and daily responsibilities. We had so much fun there with Lori and Shan. Koz would start whining 8 blocks away when he figured out where we were going, it was certainly a place of pure enjoyment for him. There wasn't a show at the Stampede that year, but that wasn't all that important to me, we just had fun spending time together.
Summer of 2000 came and we were at the Stampede for a 3 day invitation..at the end of 3 days we were invited to stay,… what fun!
Half way through it we were invited to the PNE for 1 week. Koz did love the shows and it has been stated that he gives himself 150% all the time, but to him he didn't know any better, this was the norm.
The family of the Superdogs has given me memories that will stay with me my entire life and they just wouldn't have happened without Kozmo. This was no more apparent last May when he was diagnosed with Cancer. The support I received from all of you was incredible. The Get Well card and support in Winnipeg when he could not be with me brought tears to my eyes. The birthday card, cake and gifts in Vancouver was overwhelming. He would ignore his sickness when I took him off the Chemo in July because the quality of life just wasn't there, he didn't deserve that , so off he came, and we just put him on prednazone. if he was going to live for a while longer it would be a good life…and so we were in Vancouver showing people just how much we love our dogs, and even more importantly sharing my feelings for Koz with my friends, and family, The "Superdoggers" ! My only regret was that I could not share it with all of you.
The affection and acceptance of Koz at previous shows or in Vancouver constantly wanting to visit (albeit not for long) and running around the PNE like he owned the place… into the offices, the hockey team room, dining room, lounging room, the change room, ..almost everywhere BUT the kennel room,( at least not past the doorway) , he loved all of you like family, because to him you WERE family!
The entertaining was a bonus !…why I kept track I don't know…7 million people in 535 shows, He loved doing each and every one!
I put Koz to rest Sept 27, 2003….he is out of pain, and no longer struggles to breathe. He will be on that stage under the bright lights just this side of the Rainbow bridge Having a marvelous time without his lumps, with his wonderful coat, having the energy to be a clown and romping with all the wonderful superdogs the he will meet up with!
Am I sad? of course I am, but more importantly. I am grateful for having the opportunity to have such an incredible creature to travel across Canada with, and into the States, to involve me with such a wonderful and caring group of people with who I have forged many friendships, but most of all Koz was terrific just to spend time with and hang together, whether we were training, walking, running, playing on the beaches from Vancouver to Halifax, walking to the Dairy Queen to each have an ice cream cone, or just plain old laying on the grass together watching life go by.
I will miss him terribly.
---
Ch. Cherfire Breigayt Silvr Bullet
"BC"
September 16, 1995 – September 21, 2002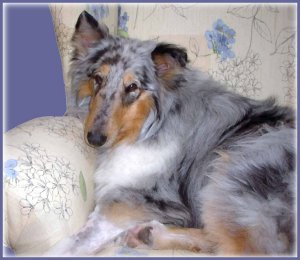 Owned and loved by Joyce and Gary Dozier
We went to pick up BC at Logan Airport in Boston on a summery late September day in 2000. There he lay in his crate, regal, dignified, head up, eyes alert. Since BC left us, that's what I remember, that handsome bearing. BC immediately claimed the house, and chose as his "throne" the huge living room chair. All through his days he kept that chair as his, and after awhile no one else sat in it. Ranger, our other collie, learned through some unspoken doggie language that BC was the Top Dog, and it was never questioned. BC was diagnosed with lymphoma in Dec. 2001, but before he left us, he met the love of his doggie life, who was an abused girl we obtained through the Collie Rescue League of New England, named Sarah. They became fast friends. Sarah never left his side and when a larger dog at the vet's barked at her, he got between Sarah and the larger dog. No growling or barking, just his presence was enough — it was always enough. About a month after we got Sarah, BC, now raggedy from the chemotherapy, could not fight his cancer anymore. We said goodbye to him too soon, and cried, but he will never be forgotten, and I know that now with silken, thick, healthy fur he's running in a sun-streaked meadow somewhere. But there is a happy ending, of sorts. We now have his grandson Lucas who is a lot like BC, stubborn, intelligent, and above all regal. He, like his grandfather, owns the house and its occupants, and it's somehow fitting that Sarah gets to raise BC's grandson.
"I have sent you on a journey to a land free from pain, not because I did not love you, but because I loved you too much to force you to stay.
---
"Ch. BenEcho's Sm Move To Cherfire CC
"Whitney"
July 11, 1998 – March 14, 2001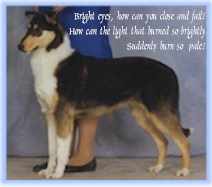 ---
Ch. Cherfire Breigayt Doc Holliday CD/CGC/HIC/CC/VC
"Bandit"
September 16, 1995 – January 9, 1999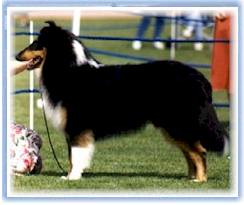 ---
Cherfire's Pianoman HIC
Son of – Am/Can. Ch Cherfire's Sneak Preview CD/RN/HIC/CGC/BPDX/VCX/ROMX/ChP and Ch. BenEcho's Cherfire Sm Jazz HIC/TT/VC
"Copper"
April 27, 2005 – September 27, 2010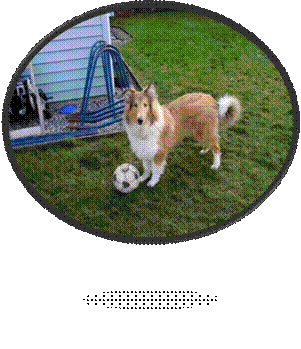 I remember getting an email on April 27th 2005 while in Vegas, our puppy had come into the world. Through a number of emails and phone calls we knew that he was going to be 1 of 2. Two weeks later the entire family had the opportunity to see the amazing litter and to finally meet our new family member. There they were all sitting in the backyard with mom hidden away in the house. We didn't pick him, he chose us and there was an instant bond to the family. Eight long weeks later, Canada Day, we made the long drive from our Maple Ridge home to pick up our newest family member in Vernon. As we walked up to the pen where they were, he ran straight for us while the others just looked around, he knew he was going with us.
Copper was purchased as a family pet and we knew he wouldn't follow in his parent's footsteps as champions in the show ring, but he was our champion. He passed his obedience with flying colours and even earned his Herding Instinct Certificate in March of 2006. But most of all, he took care of his own pack at home. Always doing the rounds at night to make sure that everyone was in there proper place, he really hated it if someone was missing. If for some reason someone wasn't home, he would end up pacing and going from room to room trying to find them.
Early September, we noticed that he just wasn't his normal happy go lucky self, and it didn't take long to realize that something wasn't quite right. On September 10th Copper was diagnosed with aggressive Cancer and within two weeks we said good bye to our beautiful boy.
Copper will always be remembered as the one who always had a smile on his face even when he knew that he was in the "dog house". He had a way of making you forget what he had done, and get you to start laughing. His favorite thing to do was to play soccer both indoors and out and even on his last day he was trying to pick up his soccer ball to play. The mind was willing but the body wasn't following. We couldn't have asked for a better companion. He was more than our pet, he was family.
Steve & Christine Donnelly
---